When it comes to the Royals, it seems as if we just can't get enough. First there was Kate Middleton and Prince William, and then a new royal It couple came to London – Meghan Markle and Prince Harry. While the two lovebirds definitely seem to adore one another, having their life constantly followed by the public eye can be stressful to say the least. Let's see what the body language experts have to say about how these two are really doing.
In sync
Jane Greer, Ph.D., the writer of the popular relationship guide book What About Me?, is an expert when it comes to relationships and body language. She is here to tell us what Meghan Markle and Prince Harry's body language over the last few years is truly saying about them.
According to Greer, the royal couple is mostly in sync. She says, "They're in unison, from their similar clothing colors to their hands together." The adorable pair does tend to match every now and then, just take a look at this elegant navy on navy ensemble that they both wore so well to the Armistice Remembrance Day ceremony.
Calming husband
Being constantly followed by the press can definitely cause stress on a young couple. However, the pressure can feel even more intense for Meghan, who is still pretty new to this royal spotlight. Greer points out that Harry always seems to be looking out for his wife, especially when they are attending public outings.
The expert claims that even when they are in a large crowd that they always tend to "remain connected to one another." While Harry looks confident and comfortable on this multi-city royal tour, he reaches his hand out to Meghan – who appears nervous as she holds onto her husband with two hands. The Duchess' face remains calm despite her nerves, as she is comforted by Harry.
Showing affection
Of course, Harry is not just looking out for Meghan, it also goes the other way around. Greer points out that no matter where the newlyweds are, they are constantly proving themselves relatable to the rest of the world. Here Meghan isn't shy to show affection to her man, as she playfully helps Harry get sand out of his ears while they are having a nice day at the beach.
If we didn't know better, we would just assume they were a normal couple like the rest of us. The expert mentions that the Duchess seems "relaxed" and "open to sharing their intimacy with the world" even though she knows the cameras are there watching their every move.
Proud wife
So is the honeymoon period over? Are they getting bored with one another? It certainly doesn't seem that way. The expert mentions that the newlywed's interlocked fingers, in sync walking, and the look of admiration on Meghan's face all most likely points to the fact that they are just as in love as ever.
According to Greer, the way that Meghan is always smiling at Harry, even when he doesn't notice, seems to "reflect her feelings of love." This picture in particular, from a polo match, shows the Duchess proudly looking up at her husband – who had just won the game. Greer believes that her body language shows that she definitely supports Harry and his achievements.
Staying close
Of course, Meghan isn't the only one who is head over heels in love, Harry is also (rightfully) smitten himself. Although attending multiple public events can get chaotic and tiresome for the famous couple, the Prince always makes sure to stay close by his beautiful Duchess.
Even if he ends up walking ahead of her a few steps, he always manages to stop, turn around, catch a glimpse of his stunning wife, and wait until they are close to one another, side by side. Greer explains that this is because Harry is always thinking of her, no matter what is going on. She explains, "He never leaves her behind, even if he is a step ahead. He remains connected."
True gentleman
Talk about a real life prince charming. For Harry, being a gentleman seems to come effortlessly – especially when it comes to Meghan. He is frequently spotted opening doors for his wife all over town.
Although this may seem like a simple and maybe even old fashioned gesture to some, Greer finds that there is a deeper meaning behind his gallantry. She says that Harry "continues to bring the elegance of being a prince into their relationship."
Private moments
Gushing over this photo of the royal couple while they were taking a stroll in the Redwoods of New Zealand, Greer says, "They're completely in their element together!" Not only do they seem to be walking in the same rhythm, they are also completely gazing at one another. She says their body language here proves that "their harmony is evident."
The couple's happiness here could have something to do with the fact that they had announced Meghan's pregnancy just a couple days prior.
Trustworthy companion
Yet another sweet and romantic gesture, Harry is often found placing his hand gently on Meghan's back. So what does this type of body language show? Greer believes it is the Prince's way to "help her move gracefully," mentioning that Meghan is giving off signs which point to her confidence in relying on her man.
The expert says that while he is "guiding" her, she seems comfortable shifting her focus on her own step, and from keeping her dress from blowing in the wind.
Attitude towards children
Greer isn't the only expert who has something to say about the royal newlyweds. Parenting expert Anna Williamson chimed in on Meghan and Harry's shared affection towards children. She mentioned the way they both are constantly being sweet and kind to kids. Neither one of them is unknown to stop what they are doing to give a young fan a hug.
Williamson believes their body language is "warm and genuine," saying that these two new parents are "taking to their new roles like ducks to water."
Double hand-holding
Most of the time that we see the Duke and Duchess during their public appearances we see them holding hands. While this isn't unusual for couples, there is something unique about the way Meghan and Harry lock fingers.
Body language expert Dr. Lillian Glass points out that Harry often does "double hand-holding" with Meghan, showing that "he always wants to be connected to Meghan no matter what." She adds, "He definitely is even more hands-on towards Meghan since he found out she is pregnant."
Being protective
Dr. Glass isn't the only one who thinks the body language between Meghan and Harry has changed and deepened since marrying and growing their family. Expert Lisa Mitchell explains that ever since Meghan's pregnancy was announced, Harry was spotted walking slightly in front of his wife on numerous occasions.
She explains, "He's in front of her with his arm overlapping her torso in almost every picture of them walking, showing that he's there to support her and be a protective barrier between her and others if she needs him to be."
Feeling connected
Mitchell points out that especially in later months of the pregnancy, Meghan and Harry were always touching one another either through hand holding or with at least one arm on the other. She believes this indicates that they were "feeling connected and close during that exciting time."
Meghan was also frequently spotted with one or two hands on her growing belly. Expert Judi James claims this is a "tender gesture of both pride and affection" for her and Harry's baby.
Locking eyes
James believes that there is something special in the way Harry is constantly locking eyes with his wife no matter where they are. She calls this an "open book face" that shows a sort of protection for Meghan.
James believes that the Prince must have inherited this trait from his mother, Princess Diana, who also was known for wearing her heart on her sleeve. She thinks Harry is "a man who is happily worrying for two right now."
Showing dominance
Although this simple placement of Meghan's hand on her husband's thigh could mean nothing – James sees a hidden meaning here. She says that while it could just be another intimate moment, it could also suggest "dominance" from the Duchess.
She compares the thigh hold to a "kind of checking, reminding, or restraining gesture a mother might do when her kid is distracted or inattentive." She adds that while Meghan is being a "grownup" here patiently listening to her hosts, Harry "needs to be reminded to stay focused."
True love
This photo from Meghan and Harry's trip to Australia is so precious, that it looks as if it was taken directly out of The Notebook. Body language expert Craig Baxter sees a deeper message in this picture, mentioning how close the lovebirds are to one another.
He points out, "They get as close to each other as they possibly can without whacking each other's umbrella." He calls this a "subtle and silent action" that proves they "stay connected to each other despite the terrible weather."
Their own special island
A true sign of a couple who are clearly in love is when you realize that they've tuned the rest of the world out. When it comes to Royal couples, the concept of PDA is treated with respect and reverence, but Harry and Meghan have been pretty lax about it.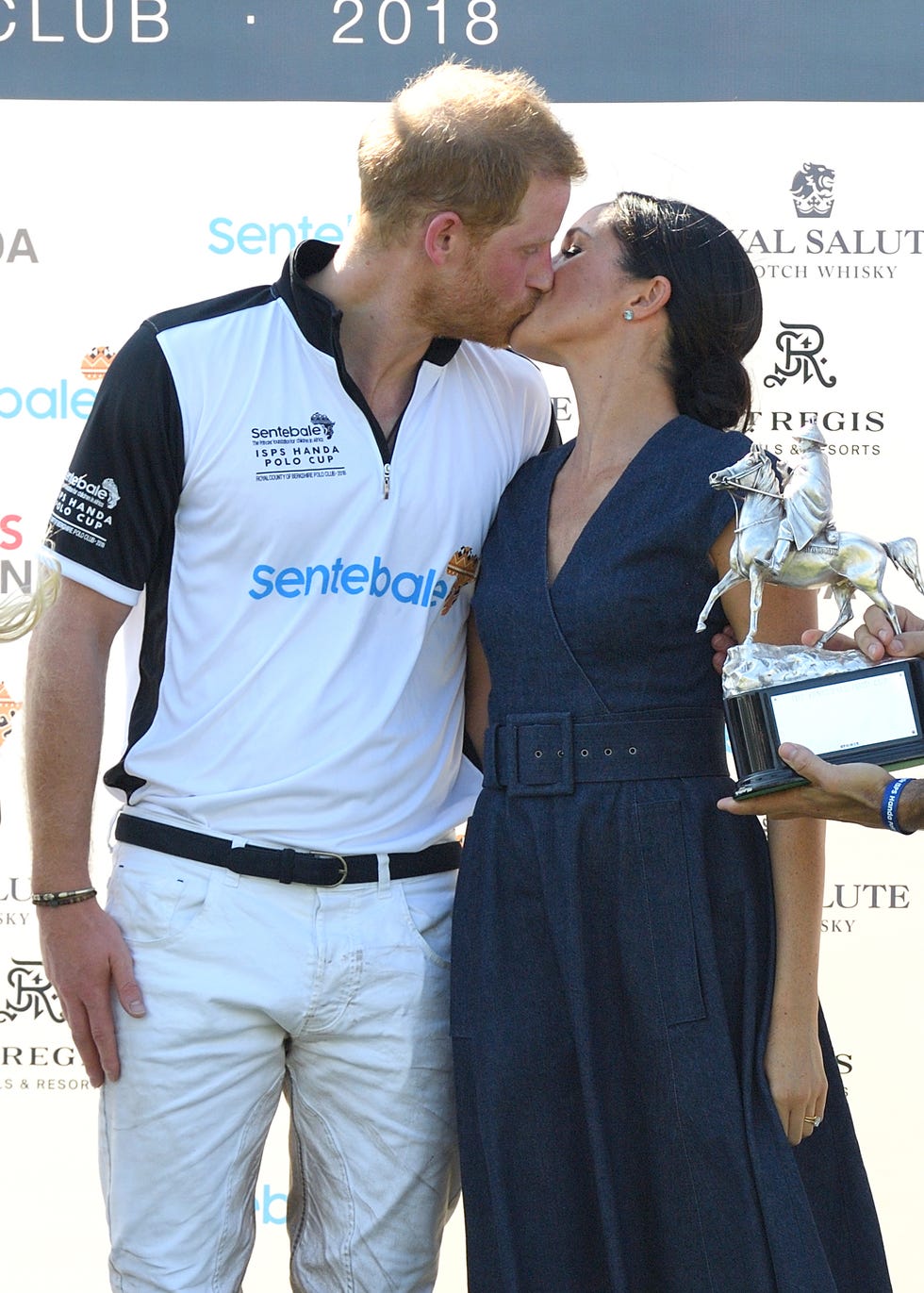 When Meghan gave Harry a big smooch in public after his polo match win, Greer noted that it was their "moment in time." It was her way of saying that love comes first, and outside opinion comes second.
Alpha dog
Before Meghan had gotten pregnant, there was a certain quality about her body language that some experts categorized as somewhat dominant.
But more specifically, Greer characterized it as an "alpha" mode, noting the ways that she would approach hosts and cameras was before Harry would, or at the very least at the same time as him. Greer also noted the arm rubs and back pats, which she believes symbolized reassurance – letting Harry know that she's there for him.
Baby bump mimicry
Here's an interesting thing you may not have noticed. You know how when women are pregnant, they'll place their hand on their belly? Well it turns out that it's common for their husbands to mimic the same gesture on their own stomachs subconsciously.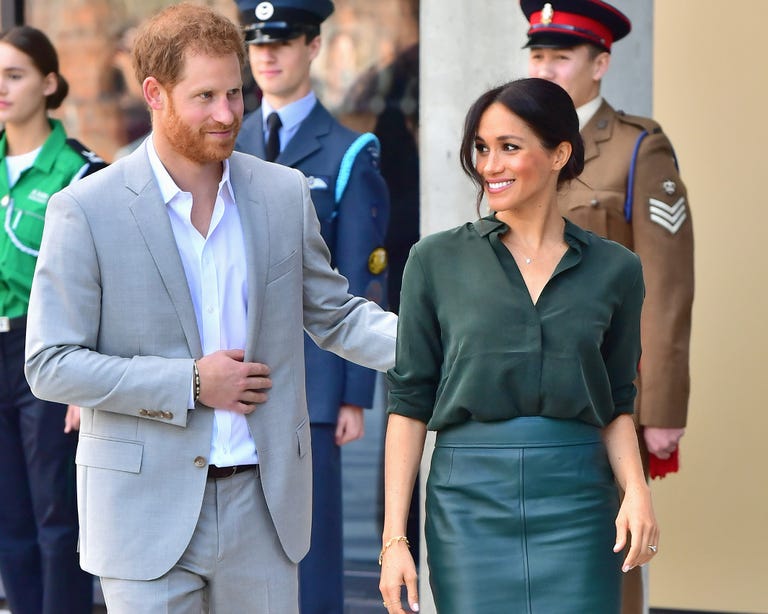 Experts spotted Harry doing this, and they've said that it's a "subliminal mirroring response" – and that it suggests that our fateful Prince had a very high level of focus on Megan's first pregnancy.
Eye contact
We've talked about the way they look at each other, but we haven't gone into depth regarding their unique eye contact that experts are gushing over.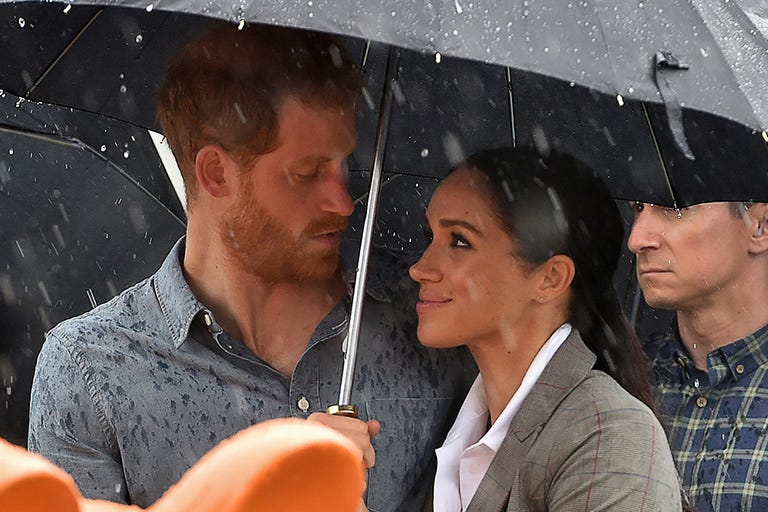 It's more than just being there for each other. It's their persistency that experts are paying attention to. They believe that they can see make believe speech bubbles above Harry and Meghan's heads, nonverbally asking questions like, "Are you sure you're alright?," and caring sentiments that suggest a deep evaluation is taking place.
Anxious assessment
But just like the experts have been picking up all the confident mannerisms of Meghan and Harry, they've also picked up the ones that are less so.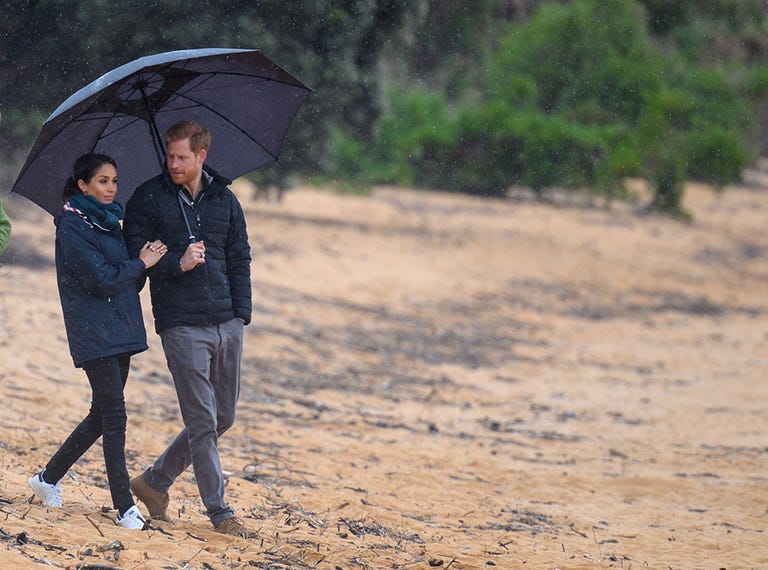 Experts have sometimes detected a sense of anxiety taking place. In this picture, they've pointed out to his hand in his pocket which they say is an "attempt at nonchalance," along with his "slight frown" with lips pulled in expressing concern.
The 'hand clasp'
Experts are the types of people that will analyze the tiniest gesture to the minute detail, but then again, that's exactly why we love them. In this case, they've pointed out a particular "hand clasp" that Harry made onto Meghan.
Louise Mahler noted that Harry is reaching across Meghan's entire body in a subconscious attempt to pull her nearer to where he is. They're obviously enjoying themselves here, but Harry is showing the world that Meghan is his.
Meghan's special stares
We've already acknowledged that these two are obviously in sync in a deep and special way. But the way Meghan stares at Harry have particularly gotten the attention of not just experts, but people all around the world.
It's obvious that this woman is head over heels in love with Harry, and you don't even need an expert to understand that. Nevertheless, Dr. Lillian Glass had said that they clearly "have fun," and that they're "on the same page."
Sneaking a peek
Here's another thing Dr. Lillian Glass noticed while watching a video of the Royal lovebirds while they were participating in a game.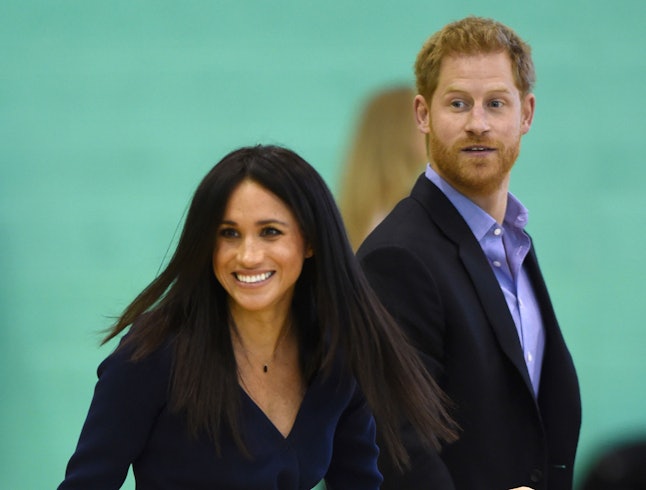 She noted how even though they weren't always standing next to each other during the game, Harry kept turning around to "sneak a peek" at his lovely Meghan, making sure that she was okay, and that she knew what she was doing. Glass also added that Harry has "never had such a genuine smile." Well how about that?
Their independence
We've done a lot of acknowledging of the way Harry and Meghan have adored each other with their body language, but now it's time to discuss something else – their obvious independence.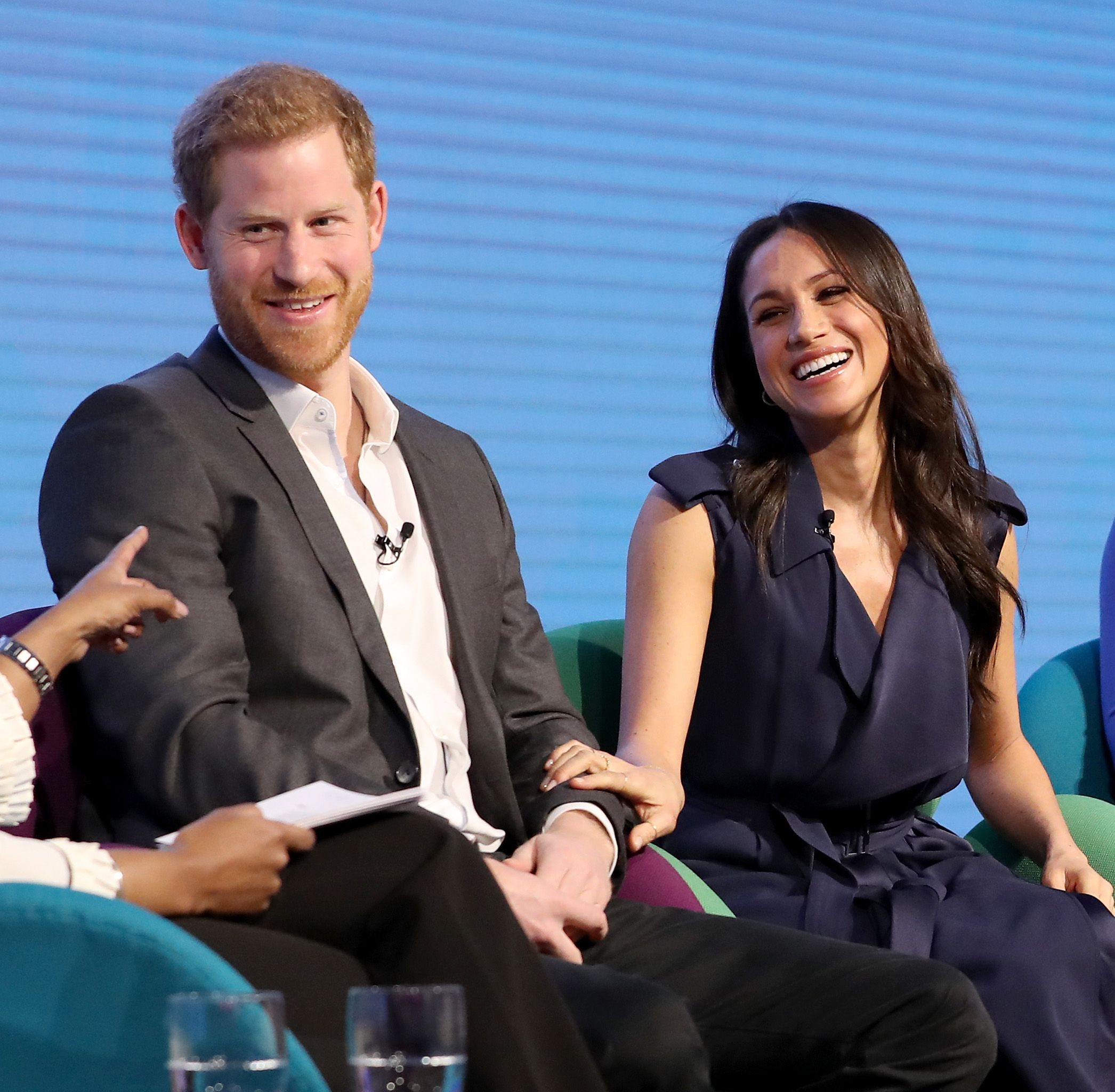 Although it's clear they always want to be connected, Dr. Glass pointed out that Meghan also looks "pretty independent," and that she's able to do her "own thing." As important as it is to feel connected to your spouse, you also must be your own person – and they both have that.
Do you believe in magic?
We mentioned the celebratory kiss that Meghan and a sweaty Harry partook in after his polo match, and it turns out that Dr. Glass also finds that to be pretty telling about their love for one another.
If there's something we've gathered from the opinions of all the experts, it's that Harry and Meghan are expressing their love for each other in ways that extend beyond what one can see on paper – it's simply transcendent, and we can taste their magic.